A flavour of what lies in store next month when COP28 takes place in Abu Dhabi was in the air at the ADIPEC 2023 Decarbonisation Conference in early October. Over two thousand energy industry companies from 164 countries exhibited simultaneously alongside this Conference.
For four days 350 live sessions were attended by 15,000 delegates and addressed by 1,600 speakers. The conference halls were surrounded by an enormous exhibition and more than 185,000 people participated in the whole event, creating a very bustling purposeful atmosphere.
At the end of November COP28 itself will be a multiple of these numbers. It will take place in temperatures in the low to mid 30s and walking any more than short distances in the daytime will not be an attractive prospect.
Regrettably the progress of the debate about both climate policy and the measures which are increasingly urgently needed to prevent the rise in global average surface temperature from exceeding 2C are equally unattractive. NNWI will comment on these critical issues when COP28 itself begins.
Our role at ADIPEC was to lead a lively and well attended debate on how nuclear energy can support a low carbon energy system. It was very encouraging to find here, in the heart of one of the world's largest oil and gas producing regions, unequivocally strong endorsement of our view that the Clean Energy Transition cannot be achieved without a significant contribution from nuclear.
As Wood Mackenzie, whose Chief Analyst Simon Flowers ably chaired our discussion, put it "nuclear should play a central role in decarbonisation for many countries." Dr Steve Griffiths Senior Vice President of Khalifa University of Science and Technology in Abu Dhabi was very bullish about the potential for nuclear, particularly as SMRs and other technology breakthroughs start to be widely available.
Dr Daniel Dean, Chairman of the International Bank for Nuclear Infrastructure, who spoke at NNWI's Budapest Conference in June, spoke of how nuclear energy can attract public and private financial support. He pointed out the essentiality for the global nuclear sector to rapidly and significantly scale to achieve at least a tripling of global nuclear capacity by 2050 in order to achieve sustainable 2050 Net Zero objectives, and that "current financing and delivery models relying on individual government supports will be insufficient to mobilise the necessary multiple trillions of dollars of capital flows into the nuclear space over a very short time span".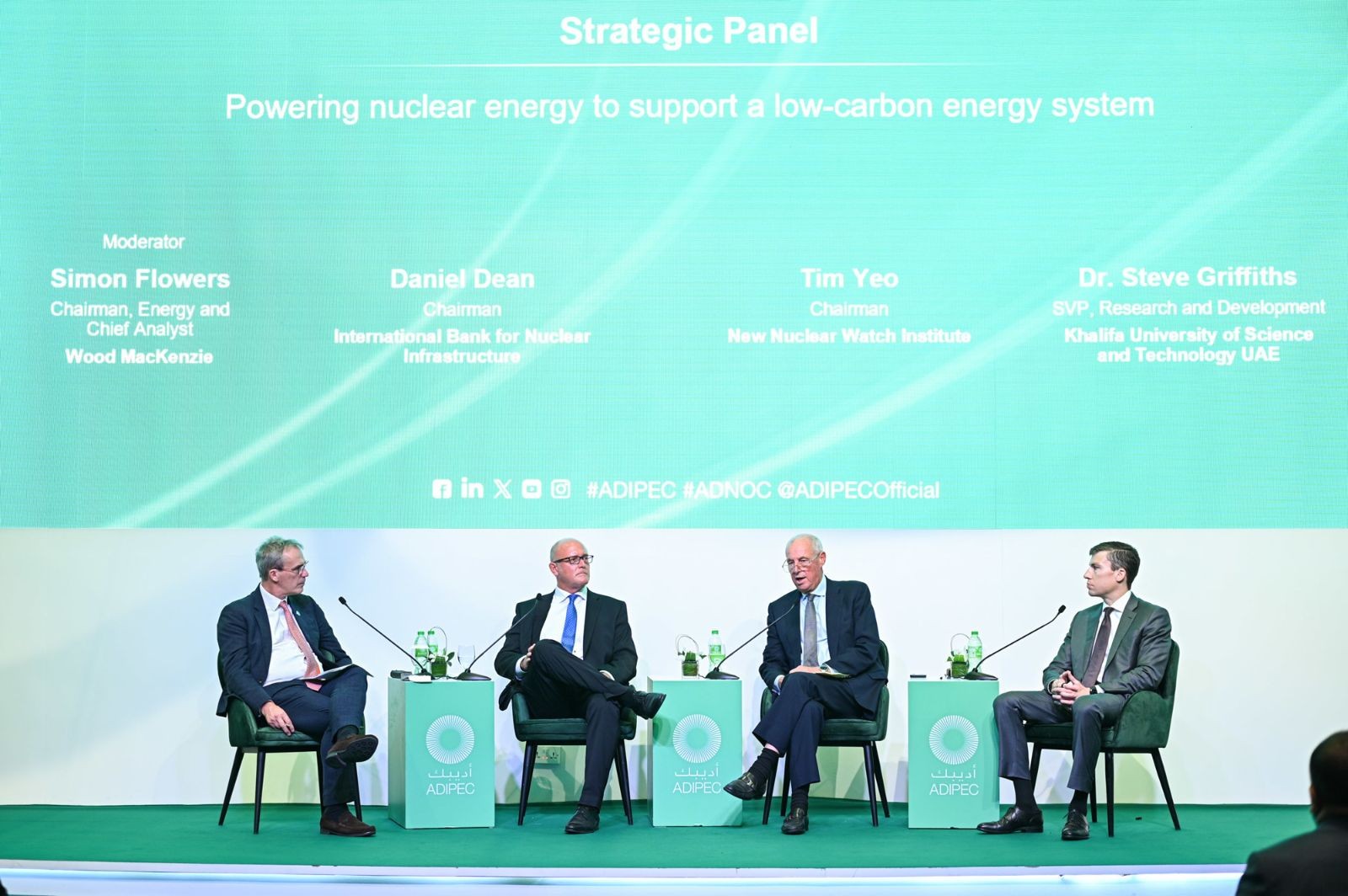 The debate ranged widely. The UAE's own success in establishing its nuclear energy industry, within a decade and on budget, in cooperation with South Korea was rightly applauded. Optimism about the scope for cutting the cost of new plants by constructing multiple reactors of the same design was expressed.
Speakers were encouraged by Simon Flowers not to shrink from addressing the subject of the opposition to nuclear energy which is felt by some members of the public. Since this opposition is often based on fear and ignorance there was general agreement that educating the public about nuclear energy should continue to be prioritised and that the health benefits of nuclear should be better explained by the industry.
A warning was sounded about the risk of allowing the export market for nuclear reactors to become dominated by Russia. Ensuring that skilled nuclear energy industry workforces are nurtured and supply chains developed in a wider range of countries was advocated by NNWI.
To strengthen the fight against climate change it will be important that countries which do not have uranium reserves are helped to develop their own nuclear energy capability. That help should include, if desired by the recipient nation, not only the supply of fuel rods but also an offer to remove and reprocess waste. A package of this sort could help some countries which otherwise might hesitate to join the nuclear family.
Towards the end of the discussion a poll of the audience's opinions was taken. This resulted in a clear majority for the view that more investment in nuclear energy capacity will help to overcome dangerous climate change.