Immediately after our Budapest conference NNWI signed a Memorandum of Understanding with the Nuclear Industry Association of Turkey (NIART) on 21 June at a ceremony held in Istanbul during the Nuclear Power Plants Expo and Summit (NPPES). The MoU reflects NNWI's respect for the work of NIART with whom we now plan to cooperate on a number of projects in the coming months.
The aims of NNWI and NIART are closely aligned. We strongly support Turkey's aim of doubling the share of low carbon electricity generation in its energy mix from 25% in 2013 to 50% by 2027. Good progress has already been made towards this goal with a 36% increase having been achieved in the last ten years. We also congratulate Turkey on the progress of the Akkuyu reactor now under construction which is on time and in line with budget.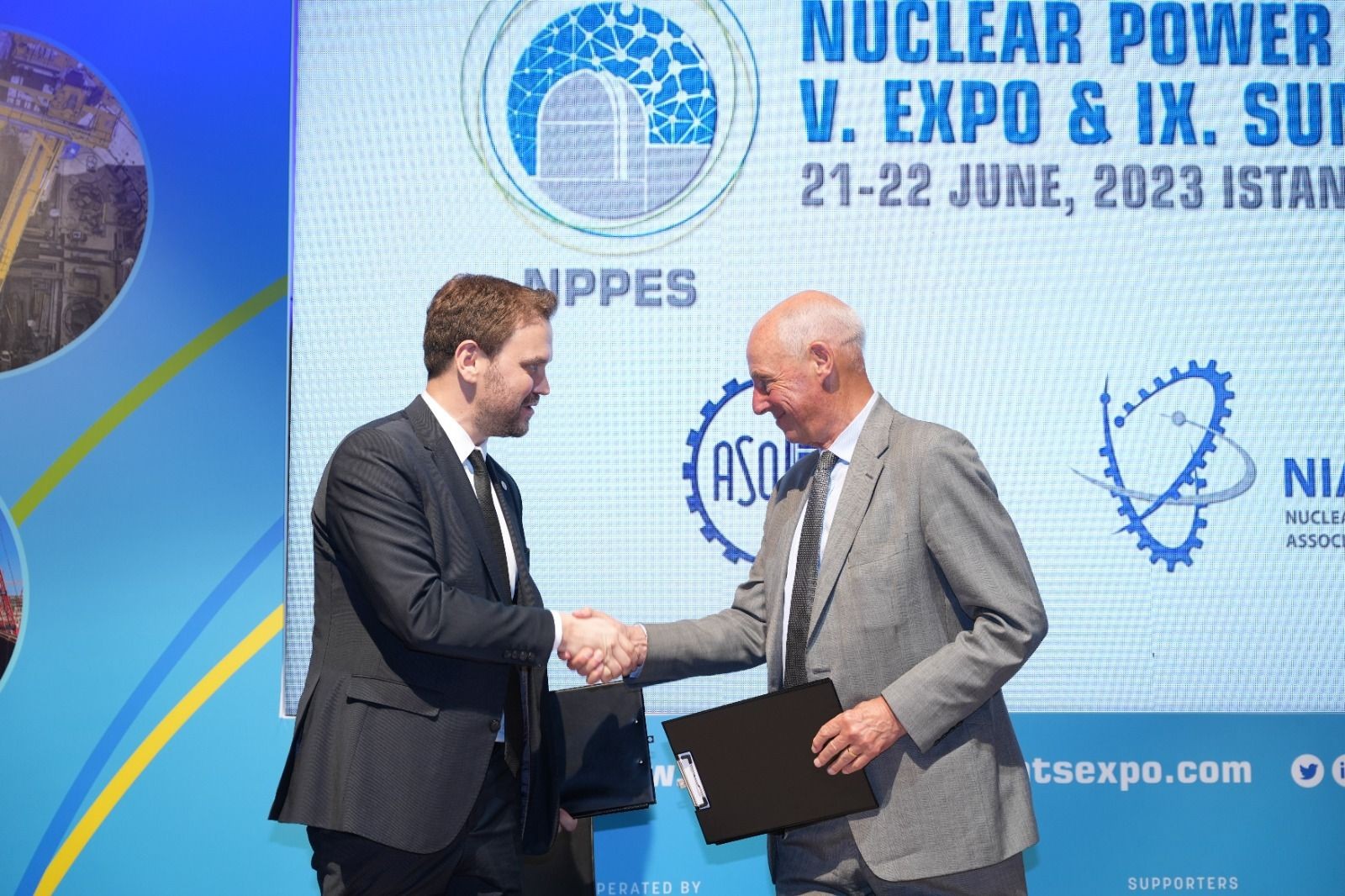 Key points from presentation made to NPPES
NNWI believes Turkey and its neighbours will drive the expansion of the nuclear energy industry in the region and more widely. Our calculations show that to reach net zero by mid-century Turkey will need even more nuclear power.
For a country of Turkey's size, economic structure and growth pattern the clean energy transition will require at least 60 per cent of its power generation fleet to be from low carbon baseload sources by 2035/40.
Although our aim is to promote greater investment in nuclear energy capacity NNWI has always strongly supported the growth of renewables. We see nuclear and renewables as complementary, not as competitors. However demand for electricity will grow and we doubt that renewable energy can produce 90 per cent of electricity by 2050 as some enthusiasts for renewables claim.
Wind and solar wouldn't count towards Turkey's 60 per cent target because they are intermittent. Hydropower is already close to its full potential so to bridge the low carbon supply gap and ensure the resilience of the grid Turkey would need another 15-20 GW of nuclear capacity including Akkuyu.
Our belief that the world needs more nuclear energy is based on our conviction that climate change is an existential threat to the human species and therefore the most urgent problem facing the world. It is already clear that climate change may make some areas uninhabitable within the lifetime of people alive today.
The benefits of nuclear are not confined to addressing climate change by cutting CO2 emissions.. It's also good for energy security, an issue which has risen in importance considerably in the last two years. In addition it has an immediate health benefit because replacing fossil fuels with nuclear energy improves air quality and prevents hundreds of millions of premature deaths caused by air pollution.
In contrast Germany's decision to close its nuclear plants increased its emissions, weakened its energy security, made its businesses less competitive and impoverished its domestic consumers.
Geopolitical considerations, including the consequences of Russia's invasion of Ukraine, were widely discussed at NPPES. The West's response to this invasion involving the widespread use of sanctions is entirely understandable. Nevertheless it is important to be clear about some of the consequences.
Permanently excluding Russian and Chinese technology and investment from future international nuclear development will inevitably slow down the growth of global nuclear capacity and therefore raise the cost of reaching net zero. This would make the task of preventing dangerous irreversible climate change harder.
Little more than a decade ago the UK Government was considering adding 10 GW of new nuclear capacity. All the leading nuclear vendors were interested, including CGN and Rosatom. Today the geopolitical winds are blowing in a different direction. CGN has been sent home even though its design was approved by the very rigorous UK nuclear regulator and the use of Russian technology has become unthinkable.
NNWI notes that this change of policy has not stopped Russia and China from continuing to enjoy thriving export markets though the timetable for realising the UK's nuclear ambitions has slipped. More widely we fear that allowing geopolitics rather than energy needs to determine policy will slow down the clean energy transition at a time when it should be accelerating.
During a previous crisis triggered by Russia's invasion of Afghanistan when trade sanctions against the Soviets were introduced civil nuclear cooperation continued. Westinghouse and Siemens never stopped working with Russia. The construction of the Lovisa plant in Finland continued. France went on importing enriched uranium from Russia.
All this was done for a good reason as it recognised that the economics of nuclear require long term stability and interdependence. To enable nuclear fulfil its potential to fight climate change we should consider cooperation similar to what was done in the past.
Why not let multinational consortia bring together leading nuclear vendors to join forces in taking on the challenge of accelerating new nuclear construction and insulate these projects from the vicissitudes of geopolitics?
The Lovisa project was based on the Russian nuclear island and its design was enhanced by western ancillary equipment and turbines. In future why can there not be Russian/Korean, French/Japanese, Canadian/Chinese partnerships?
These may seem fanciful today but one day the war in Ukraine will be over. Humanity will still face a climate crisis which gets worse every day. NNWI hopes we can work together to prevent the damage caused by climate change from being even worse than that caused by what has happened in Ukraine.